I've been thinking about some of the beer kit that I no longer use (gout
) so I dug the old SS fermenter out of the shed yesterday while doing that spirit run and set it up in the garage.
It's a 50liter (if I remember correctly) SS insulated Thermo pot, used for keeping food hot, I got it from Germany many years back. Now the weather is a lot warmer I thought it should work out well sat in the garage. I'd fitted a bottom drain in it so great to put the boiler under the tap and fill, no carrying 25litre buckets about.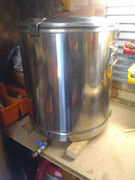 Ice.