Popped into Booker yesterday for pork to start another batch of curing off, in the veg section they have a corner for sale stuff. I spotted mushrooms & a £1 per tray...the big trays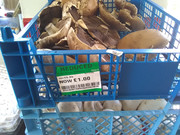 Finished up with 3 trays, 2 button & 1 field, when back home the dehydrator was set up, took me about 35/ 40mins to slice enough to fill all 6 sections and away it went.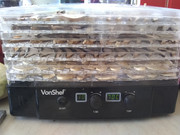 Checked them after 7 hours and left them for another 1 hour, turn the machine off as I went to noddy land.
This morning filled a couple of large bags with the dried results, there's enough to do a 2nd load & for me to cook a nice Pancetta & mushroom risotto tomorrow..
Ice.